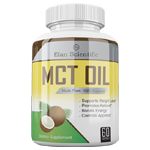 MCT oil is quickly digested giving a boost of energy and helps you feel full. Many people who follow the keto diet love MCT because it's a simple way to increase their fat consumption and stay in ketosis – the fat burning mode that helps the body process fat as energy.
This top quality Keto supplement provides many incredible benefits: Establish, Burn, Balance, and Maintain - supporting the body and brain in a way that ensures optimal weight loss, improved health benefits and overall wellbeing
In terms of quality and purity of ingredients, there is nothing else on the market that comes close to Elan Scientific MCT Oil.